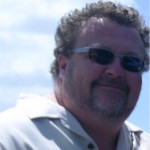 Tom Pederson
World Traveler, PADI Master Instructor Trainer
Tom Pederson has nearly 40 years of experience teaching diving as a PADI Master Instructor Trainer with Scuba Center in Minneapolis/Eagan. As well as teaching on a regular basis, he oversees and directs their travel program, often leading dive trips around the world.

During the 1980s, Tom traveled and led trips throughout the Caribbean and lived for a time in the British and US Virgin Islands. As interest in travel grew, he began to think about dive travel more globally.

In 1986, Tom began Scuba Center's "exotic" dive travel program with a trip to the Galapagos Islands. He has returned there at least once every decade and will be going back again with a group this March. The program has expanded to include destinations such as: Australia, Red Sea, Cocos, Fiji, Borneo, Papau New Guinea, Micronesia, East Africa, Maldives, Philippines, Vanuatu, Antarctica and many others. Tom continues to seek new opportunities for his traveling clients, as well as himself. Most recently, he has enjoyed exploring Cuba, Oman and the Solomon Islands.

Tom works with travel wholesalers who are experts in travel arrangements catering to divers. All of these years of travel planning has provided him with a wonderful network of dive travel professionals to draw from. Some were true pioneers for the areas they developed. Using Tom's broad knowledge of the travel industry, he partners with these experts to plan diving trip for both groups and individuals.

Academic Achievements
Bachelor in Social Sciences, University of St. Thomas, St. Paul, MN
Masters in Education, University of St Thomas, St. Paul, MN
PADI Master Instructor Trainer and dive instructor since 1979
Received PADI "Elite" Instructor status last 5 years
Specialty Instructor Certifications include: Wreck Diver, Ice Diver, Reef Fish Identification, Project Aware Shark Conservation, Adaptive Scuba
Solomon Islands and Travel Update on Cuba and Around the World
Join Tom in his diving adventure to the Solomon Islands along with an update on world travel under the current administration to places like Cuba.
Untouched by influences of the modern world, the Solomon Islands are considered the most authentic destination of the South Pacific. Located on the western fringe of the Pacific, north east of Australia, the Solomon's comprise of 992 islands, extending some 1000 miles south-east from Papua New Guinea. Rich in culture, this pristine paradise is one of the Pacific's best kept secrets and offers the visitor a unique and unforgettable holiday experience.
Situated to the south east of Papua New Guinea and only 3 hours by air from Fiji, the Solomon Islands are one of the most peaceful and beautiful areas of the Pacific. The Solomon Islands comprise 992 islands, of which 147 are inhabited. The estimated population of 560,000 are predominately Melanesian, while some outer islands are home to Polynesians and Micronesia's. The local people appear shy but are very friendly. Most live a subsistence village lifestyle retaining many traditional and ancient customs.
The Solomon Islands have some of the most pristine dive sites in the world. Unspoiled and undiscovered, the remote location means there are not many divers to put pressure on the reef and fish. They have caverns, reefs, large sea fans, soft corals and lots of macro including a huge diversity of nudibranchs, pygmy seahorse, ghost pipefish and more. The reef is covered in a variety of hard corals home to mandarin fish, eels and masses of reef fish. Many of the islands are surrounded by deep walls which allow divers to interact with schools of pelagics. The diversity of the Solomon's is hard to beat.