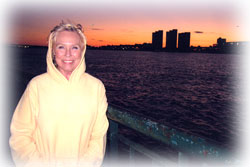 Joan Forsberg
Maritime Historian, Scuba Diver, Author, Speaker, and Underwater Videographer
Joan Forsberg is a well-known maritime historian, scuba diver, author, speaker, and underwater videographer. She has been the Chairman of the "Shipwrecks and Underwater Archaeology Room" at Chicago's annual Our World– Underwater Show since 1996. She is the author of "Diver's Guide to the Kitchen," and is Copy Editor for Wreck Diving Magazine. With her husband, Cris Kohl, she co-authored "Shipwrecks at Death's Door," "The Christmas Tree Ship," "Our World Underwater – The First 40 Years," and "The Wreck of the Griffon, The Greatest Mystery of the Great Lakes" and co-produced more than a dozen history documentaries. In her three terms as President of the Underwater Archaeological Society of Chicago, she spearheaded several significant maritime history projects, particularly the sinking of the historic ship named the Buccaneer as the newest shipwreck site off Chicago. She was the recipient of the 2011 UASC Award for many years of leadership and dedication. Joan was inducted into the Women Divers Hall of Fame in 2010, and was recently elected Chairman of the Board.
The Wreck of the Griffon – The Greatest Mystery of the Great Lakes
A MULTI-MEDIA PROGRAM BY CRIS KOHL AND JOAN FORSBERG
In the year 1679, the first ship to sail on the upper Great Lakes disappeared with its entire crew and valuable cargo of furs. Built by the explorer, La Salle, near Niagara Falls, its loss nearly ruined him. To this day, more than 335 years later, the wreck of the Griffon has not definitively been found. It has become the most hunted – and the most "found" – shipwreck in Great Lakes history.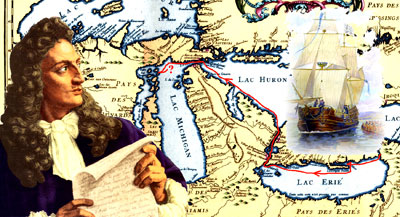 On its maiden voyage, this ship was the very first vessel to sail across Lake Erie, up the Detroit and St. Clair Rivers, and across Lake Huron and Lake Michigan. On its way back to Niagara from Green Bay, it vanished, commencing the centuries-long quest to discover its fate.
This multi-media program, based on the intensely researched new book of the same title, relates the fascinating story of the Griffon, and many of the 22 claims of discovery made in the past 200 years, with exciting on-screen visuals, vibrant background music, and dramatic live narration.